At least six people were killed in New York Saturday morning and three others were injured when a truck collided with a bus on a highway, police said.
Officials called the scene "macabre," according to WWNY-TV.
A crashed express bus with a cargo truck on State Route 37 in Louisville near the Canadian border just after 6 a.m. ET, New York State Police said in a statement.
More than a dozen passengers were on the bus at the time of the crash. A driver was in the truck.
NEW MEXICO SCHOOL BUS FAILED TO BREAK BEFORE COLLISION
The freeway was closed for about 12 hours before reopening around 5 p.m. Saturday night as police worked on the scene, WWNY reported.
One of the victims was in critical condition and the other two in serious condition. said the police.
CAR IN FATAL CRASH INVOLVING FOOTBALL PLAYERS IN GEORGIA, EMPLOYEES WERE 'NOT FOR PERSONAL USE', OFFICIALS SAY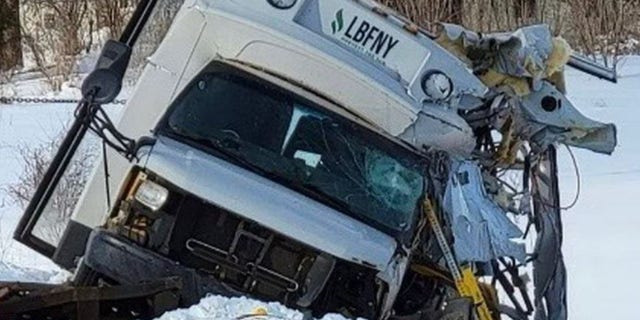 "Everyone worked really well together," St. Lawrence County Emergency Services Director Matt Denner said, according to WWNY. "Everyone was on the same page. But like I said, it was a very difficult scene for everyone there. We had ambulances from Potsdam from Canton, Ogdensburg, Norfork. We didn't miss transportation agencies or EMTS."
Both vehicles sustained extensive damage.
CLICK HERE TO GET THE FOX NEWS APP
The cause of the accident is under investigation. The road was snowy at the time, WWNY reported.